From our bride to be, Christy: "Tuscany is the embodiment of romance and April is the best season to visit. The green rolling hills and soft lighting are beyond words. We felt like we were in a fairy tale. The scenery certainly helped set the mood for our engagement photos."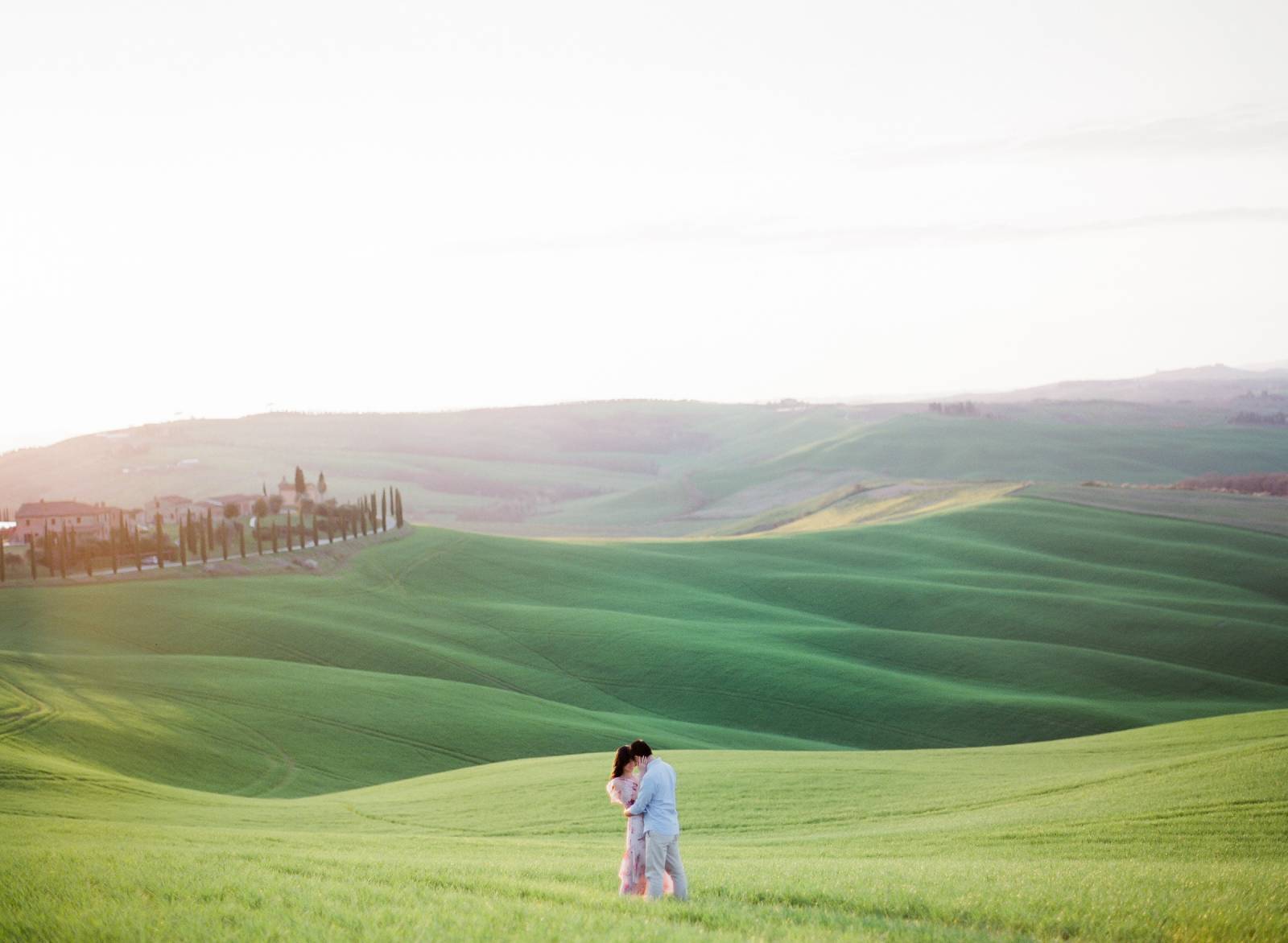 Baby, It's Cold Outside
On a cold autumn night in 2013, fate drove two strangers to a Mexican restaurant in Pittsburgh, Pennsylvania. Tony had just finished a residency interview dinner and Christy was attending a graduate student get together. A "chance" encounter down the stairs became the beginning of the rest of their lives. The long winter that followed allowed them to bond over Eat Drink Man Woman, home cooked meals, travels across China, the virtues of American football and photography lessons by Christy.
We asked the couple why they choose Tuscany for their destination engagement shoot.
Christy told us, "We were dreaming of visiting Italy's beautiful countryside together. We decided to hold our wedding ceremony at Villa del sol d'Oro, a 19th century Italian villa in Sierra Madre, California. To match our engagement with the wedding theme, we traveled to Italy for our photo shoot and a fun vacation."
/
Tips from the Photographers, Peter and Veronika
"Christy and Tony initially reached out to us for a photo shoot in Florence; however, we suggested another area in Tuscany, Val d' Orcia. This region offers so much beauty, especially during the spring. Cypress trees dominate the landscape and there are endless green rolling hills and beautiful sunsets.
After looking at some example shoots, Christy and Tony were keen on the location. After 20 minutes of driving through the amazing Tuscan countryside, we came to an incredible spot near Asciano, a little town near Siena. We arrived one hour before sunset, called the "golden hour." The spot is "sunset oriented;" we were lucky with the weather and were able to shoot during golden, soft, glowing light. We captured beautiful backlit portraits with epic scenery in the background.
Everyone was happy with the shoot. It's important for the couple to trust the photographer's expertise so that he or she can focus on the vision. The results usually won't disappoint!