We love fashion, and when we get to feature brands that are rich in Asian heritage, we fall even more in love with the styles that accompany a story of enlightening cultural significance.
The journey of the Peranakans峇峇娘惹 is one that is unique to Asia. The story of the descendants of Chinese merchants in South East Asia, who settled with locals and created a vibrant fusion of cultures, gives life to fashion pieces that are uniquely spectacular.

The Peranakan pieces of jewellery have become a true sign of identity, with oversized gold ornaments, intricate gold embroidery and golden details lining hair pins, brooches and large jewellery accessories.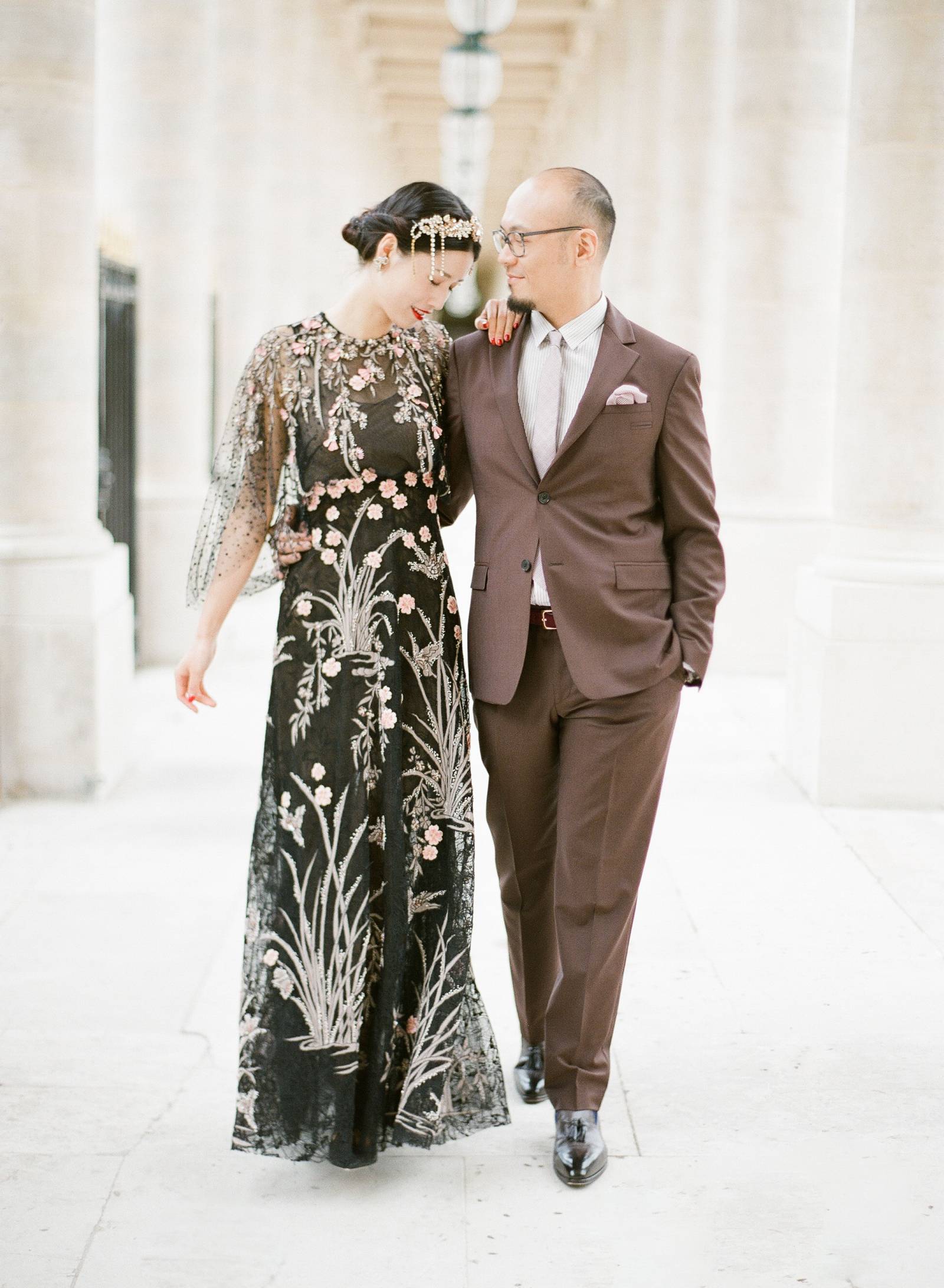 Peranakan Glamour
The Bride-To-Be's stunning headpiece is inspired by the Peranakan culture. The piece features a combination of eccentric gold lining and whimsical diamantes that consciously drape alongside the face, paying tribute to the unique characteristics of Peranakan style.
The Beauty of Biyan
Biyan is the definition of Indonesian inspired couture. Biyan's incredibly unique gowns are influenced by the natives of Indonesia and creatively combine elements of western couture.

Each gown is known for its handcrafted intricacies, including vibrant prints, Asian-inspired embroidery and delicate beading. The gowns bring a sense of modern-tradition to any pre-wedding photo shoot, engagement, wedding or special occasion and are modern luxury at its finest.


水墨画 literatiPainting on luxury
Our eyes are instantly drawn to the darker shade of the Biyan gown as it is glamorously elevated when being worn alongside the naturally lit backdrop of vintage Parisian architecture.
When we look closer at the lace gown, we see that it beautifully fuses together the Chinese orchid embroidery (quite like that found in Chinese ink paintings 水墨兰花) that reigns true to the Asian cultures of the East, with the free-flowing silhouette that is so prevalent in the West. The tall and slender embroidered orchid leaf gives an elegant visual effect, which compliments any body shape and size.
The bohemian-inspired sheer tulle sleeves elegantly drape across the shoulders, showcasing Biyan's renowned luxury craftsmanship which so perfectly incorporates eye-poppingly fresh and youthful designs.
Faces of Fashion

Photographer Greg Finck has captured the elegance and style of couple Danyi and Lawrence in this pre-wedding shoot.
Greg's knowledge of Paris and his ability to capture candid moments shared between lovers bring Biyan's Indonesian inspired gowns to life as they are introduced to the streets of the City of Love.

Danyi and Lawrence effortlessly showcase their sense of fashion and style, choosing Biyan's meticulous designs and Peranakan inspired fashion accessories that tell a sacred story of Indonesian heritage and culture.
We love this refreshing fusion of unique culture.