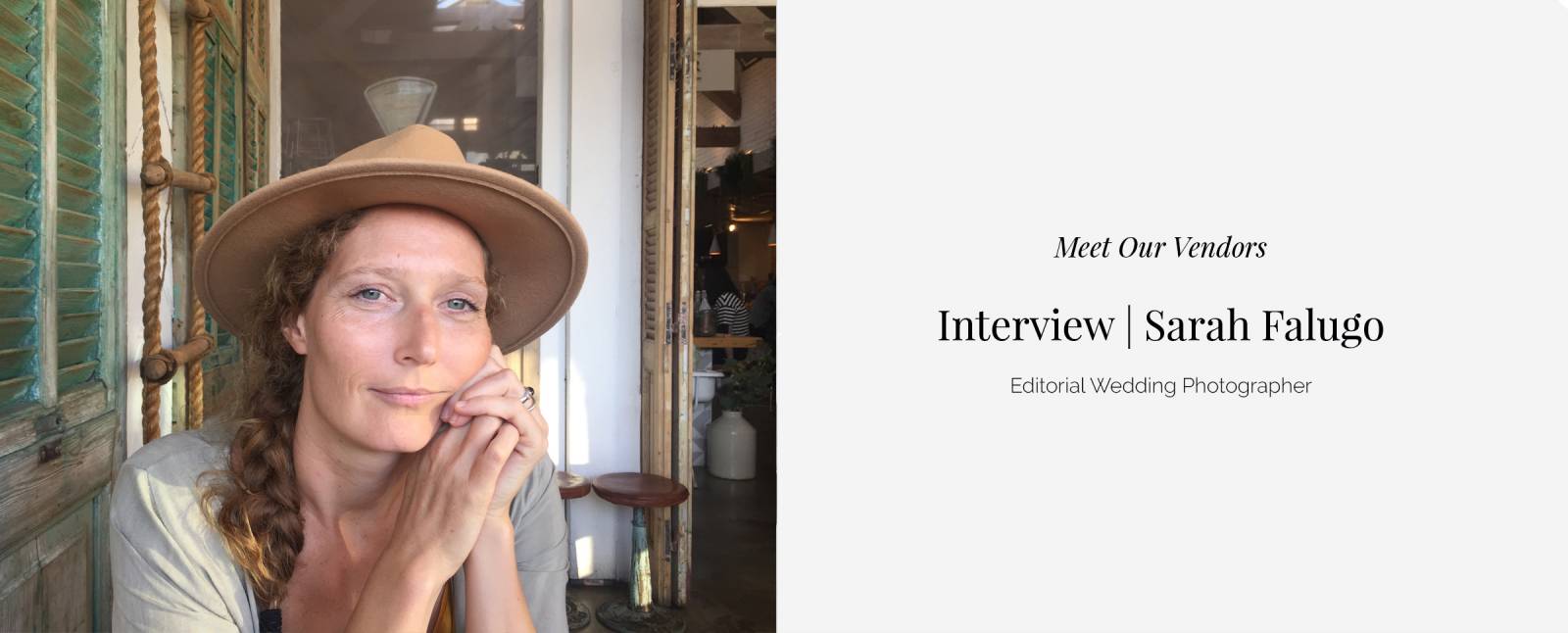 Cicilux: We value the high fashion and editorial approach in your wedding photographs and wish to share these refreshing inspirations with our readers. Your work is published by Vogue and Harper's Bazaar regularly; can you share with us what it was like when your wedding photography was published by Vogue for the first time?
Sarah: It is of course a great honor to have my work regularly published on such prestigious platforms; both Vogue and Harper's Bazaar are so iconic. Photographing weddings in a fashionable and effortless way is not an easy task; to have the images run on a worldwide platform makes me incredibly proud of my hard work and years of training, but I also feel humbled as I have had a lot of support along the way.
One thing that I often aim for is avoiding the stereotype of cookie cutter "wedding photography." There is a lot of beautiful wedding photography, but much of it lacks depth or interest. So now I, along with a few other talented photographers, am actively re-writing the definition of "wedding photography" - or at least that's what I strive for! This requires attracting the right kind of client who not only appreciates the "point of difference," but is also willing to step outside of the box. When big publications resonate with my work, it confirms that my view of the world is well received and emboldens me to carry on and take things even further.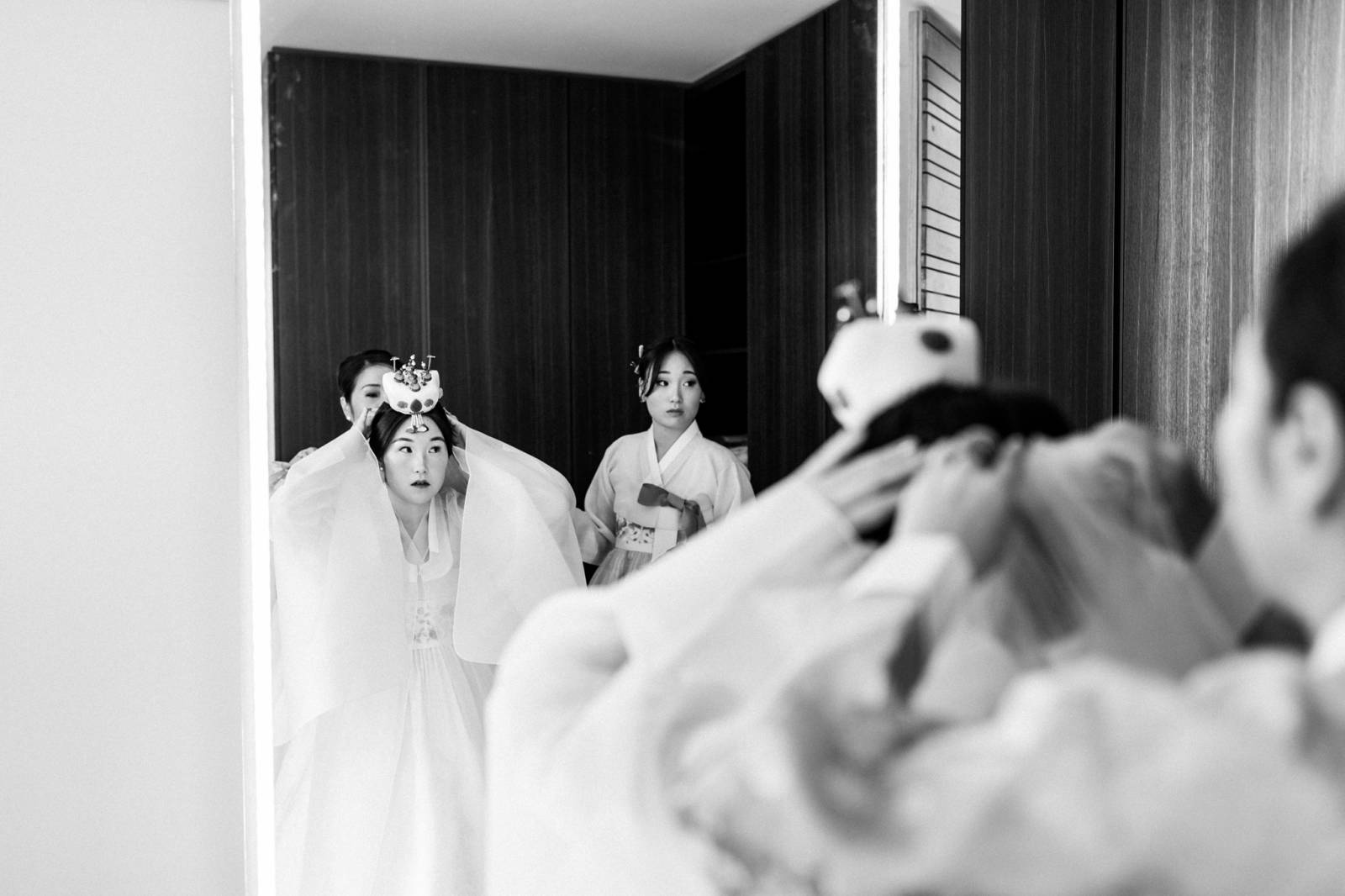 View the full feature on the modern Korean wedding here
Cicilux: How do you keep creative control during a real wedding assignment when anything can happen?
Sarah: Communication is key. I like to speak to my clients before the wedding and understand what makes them tick, what kind of people they are and what they want from the assignment. After ten years of photographing weddings, my portfolio is diverse; sometimes I take a documentary approach, other times I go for high fashion. I find out what the client is most drawn to and manage their expectations in relation to what is achievable within the limits of a real wedding environment. Then I study the timelines and schedules, as well as coordinate with the wedding planners, to try to meet as many client requests as possible while still being realistic. I encourage clients to hire me for multiple days (two to four), rather than just one, to allow us to more realistically achieve their goals. I have a small team of photographers and assign different creative tasks to everyone. During the wedding, people often comment on how relaxed and easy-going we are. We work hard but remain calm and friendly; we strategize and plan but it is equally as important to remain flexible. Plans can change and anything can happen at a wedding, so adaptability and willingness to come up with a new approach under pressure is key. Remember that you are in control and the worst thing to do is to panic. It's important to keep shooting and trust in your ability to come up with the goods, even if it isn't the shot that you originally planned for!
Cicilux: Could you share with our fellow photographers what you see through the viewfinder when you're aiming for the editorial look but shooting ordinary people who may not have the "model" look?
Sarah: Working with non-models to create a model look can be challenging; however, good looks, fashion and body type don't necessarily make or break a successful editorial image. The level of trust that the subject has invested in the photographer is much more important. How much are they willing to let go of their own "idea" of themselves and let the photographer take over? A good model (professional or otherwise) can relax enough to put their image in the photographer's hands. I'm looking for something genuine or at least interesting; that's where the magic is. If the subject can relax and let things unfold naturally, then the rest is usually organic. If the subject tries too hard to "be a model," then my work is a little more difficult.
Sometimes my images can look effortless, as if they unfolded in front of me with no orchestration from my part. Sometimes things genuinely did happen this way, but behind-the-scenes work went into relaxing my subjects and "finding" the image. I tend to move people around a lot and try many different things. Sometimes we just mess around and see what happens; other times, I come in with a strong vision of how they will stand and what we're aiming for. It's a process that evolves more successfully when I also remember to relax!
With modern social media, it is much easier to discover and access boutique bridal fashion designers. What bridal fashion trends do you see in 2019?
I come across loads of great new designers on social media, up-and-coming and edgy designers, as well as timeless brands. I appreciate both. I see a lot more architectural styles and trends coming through. Cape fashions have been around for a while now but they still feel current and brides are becoming more daring with their approach. Many brides are extending their celebrations across multiple days/events and manage to fit in four or five looks; they have so much fun with the fashion side of things. Some brides will take more risks and wear hats, pantsuits and elements straight off the runway, while others will go completely traditional but in a more vintage way. This shows how extreme things are becoming in bridal fashion. From a photographer's perspective, I love both ends of the spectrum. Photographing a daring bride is so much fun, but photographing a classic beauty is timeless and chic.
Cicilux: Would you like to share a sneak peek of your Masterclass series?
Sarah: This is still in the works with a new website due to launch in 2019. The Masterclass essentially aims to offer photographers a multi-level learning experience. They will not only build their portfolios, but also gain real skills and insights into long-term success in the business. Taking photographs that stand out from the crowd and elevate your brand is great, but not enough to ensure business success. I will teach real business sense. Students can choose to take part in one or two elements of the Masterclass or they can invest in a whole year of learning that combines in-person events and online learning.
I'm looking to schedule a touring Masterclass across a few cities that will focus on traditional classroom learning with plenty of time for Q&A. I'm still working on the schedule and people are welcome to contact me with suggestions of where I should teach. The in-person Masterclass will be multi-day; Day 1 will be introductory learning and Day 3 will be for those already in the industry who want to focus on the luxury market. I'll also be launching a digital learning series via e-books and PDFs that can be downloaded directly from my website.
Lastly, I will build in a wedding editorial or two in Europe. Students will be able to attend and learn how I shoot, rather than focusing on their own cameras. I appreciate that new photographers like to come away from workshops with new images for their portfolio, but it's also important to invest time in learning through observation.
If anyone would like to pre-register for events and be on the mailing list when I launch, then please email info@sarahfalugo.com and follow my wedding feed on Instagram @sarahfalugoweddings.


About Sarah
With a love for high fashion and editorial imagery, Sarah has become known for her unique take on the often overly prescribed genre of wedding photography. Sarah works with a host of clients in the creative and entertainment industries who value an editorial approach and crave refreshing results. Sarah's work is regularly published by Vogue and Harper's Bazaar as well as features including the front cover of People Magazine in 2017.