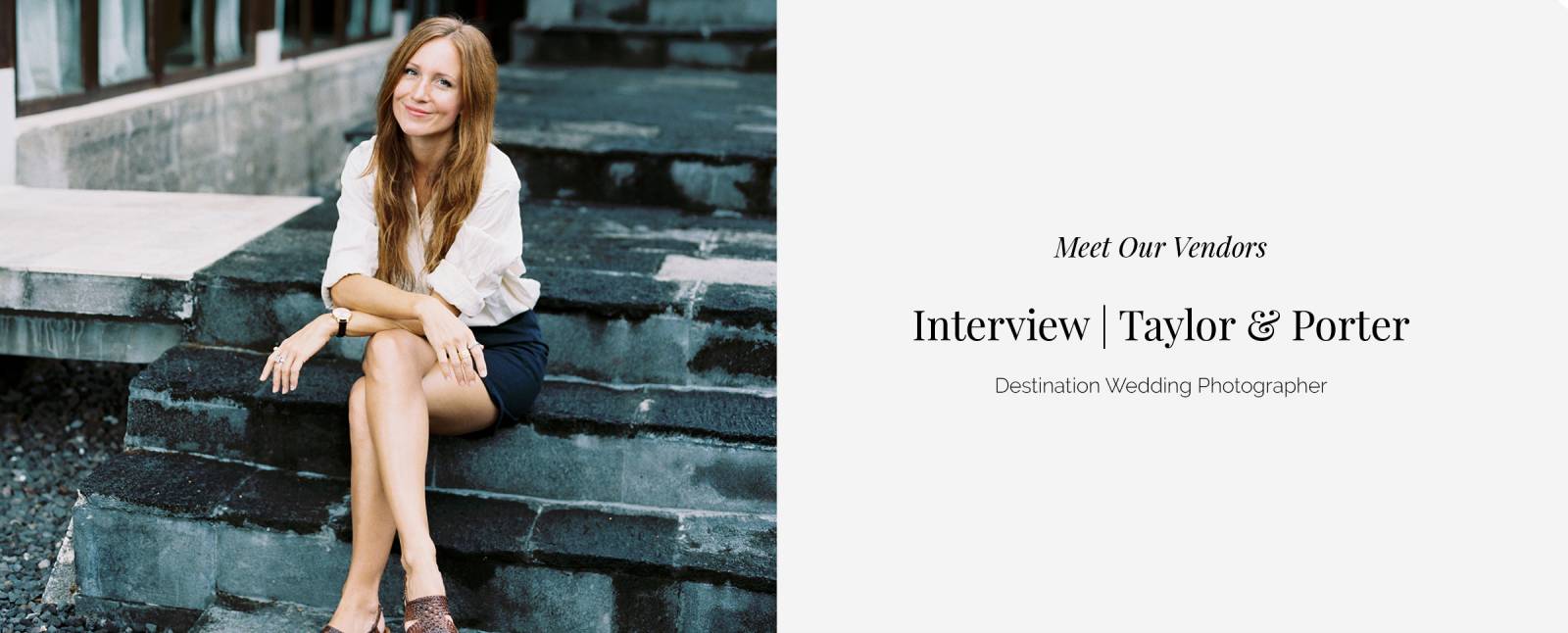 Profile photo credit: Katie Grant
Cicilux: When it comes to destination weddings, could you list 1- 3 countries / regions that are your favourites? Can you share with us why these places are special to you?


Louise: Each corner of the world excites me. My travel plans are extensive and I want to explore this beautiful planet for as long as I'm able. Specific places I have worked in recently that really resonated with me are Iceland, Italy and Japan. I love them for some of the same reasons, but also for reasons that are unique to each of them.
In Iceland, I was overwhelmed by the raw natural beauty of the landscape. I've never been somewhere that feels so alive. It is a place where nature is so incredibly powerful and demands a deep respect for the environment. It felt untamable, yet somehow sits in perfect harmony between chaos and calm - an otherworldly, achingly beautiful contradiction. I captured an intimate elopement wedding there and it was a truly wonderful experience.
I visited Italy for the first time last year and have returned to work there many times since. I'm a huge history fan, so I'm completely in my element in places like Rome and Florence, where the rich tapestry of history can be found on every street corner. I love the light and tones, the timeworn villas, the sun setting through the olive groves; it's hugely romantic and I capture a lot of weddings there for couples who feel that too.
(Read the full feature Destined for Florence: A Romantic Anniversary Photoshoot)
Japan was an experience like no other. It felt so new to me; I spent 6 days there and felt like I had not even scratched the surface of this completely fascinating culture. What I did see and experience was kind, thoughtful and peaceful, even in the inner cities. I'm drawn to the Japanese aesthetic, so was pretty much in heaven the whole time. I would like to return there for a longer trip as soon as possible and explore more of the hilltop villages and natural landscapes that I was lucky enough to see in the last breath of Autumn. The colours of the Acer trees at the temples that I visited were completely breathtaking.
(Read full feature An Intimate Japanese Tea Ceremony For Two)


Cicilux: Who are your ideal clientele? If you could come up with a client profile, what does it look like?
Louise: I don't have a specific client profile and I feel so fortunate to meet and work with so many different people from all over the world. I have often had the pleasure of capturing multi-cultural weddings and find myself witnessing unique cultural and religious traditions all over the globe. Love unites them all. One thing my clients do tend to have in common is an appreciation of aesthetics, travel and fashion. Getting to know them as individuals and as a couple is a privilege and one of the best parts of my work.


Cicilux: We love the intimate connections and elegant expressions that you capture for your clients. How do you direct your client and what are you aiming for through the view finder?
Louise: I use unique techniques that I've developed over the years to work with my clients. I am always striving for genuine connection and I want my clients to have a great time when we make pictures together. I aim to create images that are vulnerably authentic and speak of a close relationship and an innate understanding of relationships. Every couple has a unique dynamic. Understanding that dynamic and getting to know them is fascinating. It's an emotional conversation between the two of them and between them and me. Photographers aim to be magicians, crafting stories that speak without words. I like to work in a collaborative way with all of my clients. I feel that the dynamic between the photographer and the couple is such a special one and truly works best when we're both striving to make magic. To do this, I invest time in those relationships and take care to put people at ease in order to allow them to be their best and most beautiful selves. I reflect on the motivation and chemistry that informs each story I make. I'm not a casual observer; I actively want to create photography that evokes and portrays those feelings.


Cicilux: What is on Taylor & Porter's wish list for 2019?
Louise: 2019 is shaping up to be a very exciting year for Taylor & Porter. I am teaching my first photography workshop here in England in April (which is launching at the end of this month!) and I am also expanding my team to offer videography to my wedding clients. I'm returning to some favourite locations and exploring some new ones. I'll be keeping my heart and mind open and look forward to meeting new clients and telling their unique and beautiful love stories.
About Louise
Taylor & Porter captures weddings in some of the most prestigious venues around the globe for adventurous couples who are looking for contemporary, fresh, deeply romantic photographs that document not only the wedding celebrations themselves, but also the essence of their intrinsic love stories.
Louise's passion for intimately graceful and curated direction, as well as a deeply routed understanding of natural light and composition, forms the foundation of her approach, supported with logistical senses and inquisitive, documentary instincts. Taylor & Porter is proudly award winning and is regularly published within top international wedding publications including Martha Stewart, Brides Magazine, and many more.